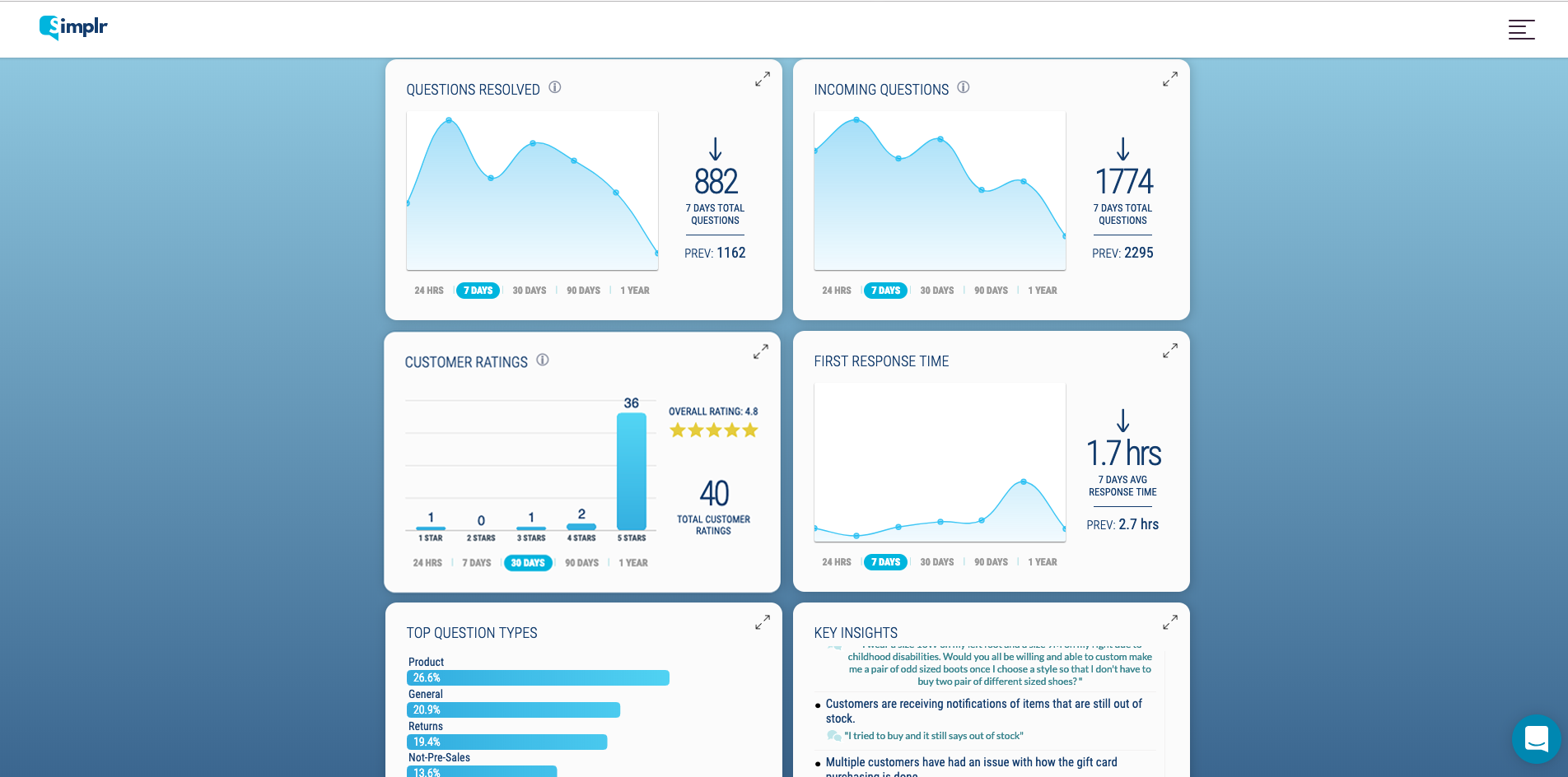 Now you may ask, how do I know how they're doing? Check our your Simplr dashboard to learn how we're making your customers happier and reducing your workload, in a matter of seconds.
Payment Info:
Before you launch with Simplr, you'll get a pop-up notification to enter your payment information. Once a credit card is added, you will be charged $2.25 USD for each ticket that has been fully resolved by Simplr for the previous week. If we escalate a ticket to you or Simplr doesn't take the ticket, there is no charge for those tickets.
Questions Resolved:
This highlights the amount of questions that Simplr has resolved, meaning that the customer didn't have any additional questions for 48-hours, to ensure all of their needs were taken care of!
Incoming Questions:
The incoming questions are all of the questions that have come into your ticketing system platform. Simplr filters spam, solicitations and automated responses from our platform to avoid charges.
First Response Time:
The FRT (First Response Time) outlines Simplr's average response time on tickets. This shows how we stack up! Simplr's speedy response rate is a great metric to compare to your current FRT within your ticketing system to show the overall improvement, thanks to our 24/7 support!
Top question Types:
This outlines the top questions that your business receives, to help you better understand the trends of what is important to customers.
Key Insights:
Simplr not only cares about your customer services but also works to notice trends within your customer inquiries.For example, " Is the same product arriving damaged for multiple customers? Have no fear, Simplr is here! We take note and let you know here so that you can get ahead of trends your customers are experiencing.
That'll cover it!
Have any questions? Shoot us a note at hello@simplr.ai anytime, we are happy to help 😊